ATTENTION *************We have moved to a new location in ararat nc...and we will not be offering nay boarding at this time!
OUR OLD TIMEY COUNTRY BARN
HUMBLE AND MEAGER BUT GOOD -N- STOUT
AFTER THE STORM
JULY 12 2003
OUR BARN AT SUNSET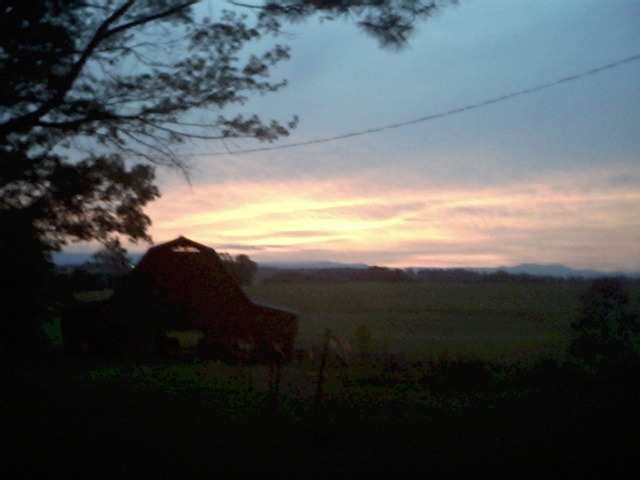 we have been here at this location since 2001 , we are still working and makeing improvements on the barn and grounds! We are hopeing to get a few more stalls added and a riding ring built by the end of the year! We have access to good places to ride and lot's of trails ! We are also in driving distance of several parks that offer trails to horse back riders, and yes lot's of beautiful places to go in the foothills of the awesome Blue Ridge Mountains !
THERE IS NO CHARGE FOR ...BLANKETING, FOR US MEETING YOUR FARRIER OR VET FOR AN APPOINTMENT ,LATE NIGHT BARN CHECKS ,AND FOR US ADMINSTERING DEWORMER...
FOR OUR FULL BOARD CUSTOMERS GROOMING IS INCLUDED IN YOUR SERVICE PACKAGE ..THIS INCLUDES DAILY BRUSHING ETC...BATHS WHEN NEEDED , BRAIDING OF MANE AND TAIL WHEN REQUESTED ETC.......
OVERNIGHT AND TEMP BOARDING........$10.00 PER DAY FOR ANY AMOUNT OF TIME UNDER 15 DAYS.....THE HORSE RECEIVES GOOD CLEAN STALL
GRAIN AND HAY 2 TIMES PER DAY FRESH WATER AT ALL TIMES AND TURNOUT IF NEEEDED.
ATTENTION...DUE TO THE PRICES OF HAY BEING SO HIGH DUE TO LAST YEARS DROUGHT AND THIS YEARS WET WHEATHER THE BOARDING PRICES WILL BE ADJUSTED TO COVER THE ADDTIONAL COST !
FULL BOARD...... WE PROVIDE GRAIN AND HAY 2X PER DAY, FRESH WATER, SALTS AT ALL TIMES.WE CLEAN THE STALL DAILY, STRIP THE STALL 1 X PER WEEK. TURNOUT DAILY, REGULAR GROOMING, AND LONGEING! $200.00 per month



BROODMARE AND FOAL CARE....SAME AS FULL BOARD,ALSO THE EXTRA CARE UP TO FOALING AND AFTER! $250.PER MONTH


LAYUPS.......SAME AS FULL BOARD, BUT WE PROVIDE ALL THE NEEDED MEDICAL ATTENTION. CUSTOMER IS RESPONSIBLE FOR ANY NEEDED MEDICAL SUPPLIES!
$250.00 PER MONTH



ALL FEES ARE DUE IN ADVANCE!
VACCINATIONS SHOULD BE UP TO DATE!
NEGATIVE COGGINS REQUIRED!
MUST SIGN BOARDING CONTRACT! CAN PAY BY THE WEEK !
ALL VACINATIONS MUST BE CURRENT AND A COPY OF RECORDS MUST BE PROVIDED TO TRIPLE B STABLES!